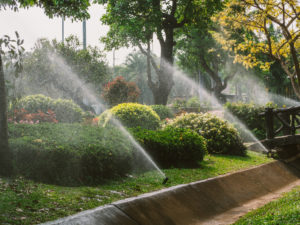 Sprinkler System
Kingwood Sprinkler is a full-service residential and commercial sprinkler and irrigation company with more than two decades of experience. We use high-quality irrigation and drainage products provided by the industry's leading manufacturers.  Rain Bird Sprinkler System offers the best performance, durability, and value.  This means that you can benefit from years of maintenance-free service because of our high-quality products. If you're currently facing a problem with your sprinkler, or need sprinkler services contact Kingwood Sprinkler.  Are you are ready to learn about the benefits of sprinkler systems for your own property, contact Kingwood Sprinkler today.
Sprinkler Installations, Maintenance, and Repairs
If you're in need of a company to help install a new irrigation system on your residential or commercial property, look no further than Kingwood Sprinkler. Our affordable and professional sprinkler services mean that you get the most for your money.  We use only the top quality products from leading brands in the industry. Our years of professional experience and design process mean that we can provide our clients with the highest level of customer satisfaction, care, and service.
Benefits of a Sprinkler System
When thinking about the benefits of a sprinkler system, there are a few advantages that come to mind. First, an automated sprinkler system means that you'll never worry about remembering to water your property. By the same token, you'll also never stress over how much water your plants and landscape are getting.  It's important to remember a well-planned sprinkler design ensures that your property is receiving just the right amount of hydration.
Additionally, you'll be able to save water. Did you know that as much as 50 percent of the water you use on your lawn is wasted on run-off? Installing an automated sprinkler system can reduce the amount of water you use and ultimately save you money.
When making an investment into the care of your property, it's important to choose a licensed company to professionally install your sprinkler system. This will reduce the chance of expensive repairs down the road from poor design or installation. Here at Kingwood Sprinkler, our professionals will come to your commercial or residential property and plan the design based on your current and future needs. Our technicians will also recommend the most effective methods of optimizing the new irrigation system for your property.
If you're ready to enjoy a well-irrigated and beautifully designed garden or landscape, contact Kingwood Sprinkler today.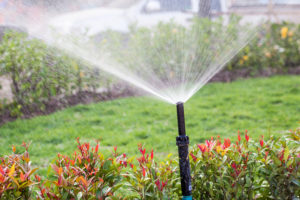 Irrigation System Installation
Whether you own a business or a home, our irrigation system installation services are ideal for both commercial and residential applications. Every sprinkler head is installed on a swing pipe mount in order to reduce pipe and head damage. So if you're tired of wasting money on other companies that only partly complete a job or products that aren't as durable as you'd hoped, partner with the professionals at Kingwood Sprinkler to take advantage of a system that will last for many years.
Our irrigation systems in Texas are fully automatic.  They feature a remote control that provides a user-friendly approach to lawn care. Not only will an automatic water sprinkler make your life much easier, it will also increase the value of your property. Our team of landscape architects and system designers will carefully analyze the layout of your garden and/or landscape as well as the plants that are located around the property.  We will ensure that the system we install is hitting every inch of your lawn–especially in areas that need it most. After we finish the sprinkler system installation, we will calibrate your system.  Then with a push of a button, you will watch the perfect amount of water bring your property back to life.
Sprinkler System Repair
What happens if you already have some type of sprinkler, irrigation or water system? Who can you call for expert advice, service, or repairs? Here at Kingwood Sprinkler, we understand that sprinkler repairs can be a significant expense for property owners. However, we can help by offering experienced technical support regarding your drip irrigation or sprinkler systems. Our team is more than happy to come to your property and analyze your current setup.  We can give you the expert knowledge, advice, and transparent quotes you need to keep your system, home and business running as smoothly as possible.
Sprinkler System Repair Services include
Preventative maintenance
To ensure the best performance possible, it's important to maintain your system throughout the year. Residential and commercial sprinklers are an investment for your business and your home.  In order to avoid costly sprinkler repairs, we can offer maintenance services and expert advice that allow you to move from season to season with minimal sprinkler complications.
Water efficiency optimization
We take pride in our ability to optimize your water efficiency. Whether you need to improve water flow or your drainage system simply isn't working, we can help. We can also save water by avoiding specific parts of your property such as parking spaces, yards, waterways, tracks and other unused or unfrequented areas.
Ongoing support
We are here to help make sure your irrigation system works year after year. Kingwood Sprinker is available for email and telephone consultations.  One of us will come to your property to make sure that any installation or sprinkler system repair process goes as smoothly as possible.
Replacement sprinklers and parts
In many cases, expensive repairs may be avoided by replacing parts instead of the whole system. Here at Kingwood Sprinkler, we stock a full selection of replacement sprinkler system parts, pipes, valves and sprinklers so that you can have what you need when you need it.
Sprinkler Services – Kingwood

Contact Kingwood Sprinkler Today
Kingwood Sprinkler has more than twenty years of experience with sprinkler services and sprinkler systems.  We proudly continue to exceed our customers' expectations. We use only the industry leading parts for our sprinkler systems.  Our technicians carefully install each custom system based on your needs, your budget, and your landscape. If you're ready to improve the beauty, health, and water efficiency of your landscape contact Kingwood Sprinkler.