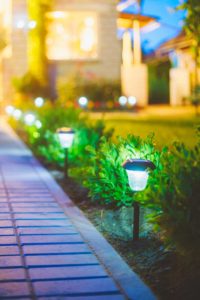 We don't just do Sprinkler Systems, we are THE landscape lighting company to call in Kingwood and surrounding cities. Kingwood Sprinkler is the leader in providing high-end architectural and landscape lighting. We offer energy efficient outdoor lighting fixtures to handle both residential and commercial outdoor lighting needs. No job is too big or too small. Call the experts today at (281)612-7870, and we will bring light where it was once dark.
Installing your own outdoor lighting can be more trouble than it's worth. It can be more complex, time-consuming, and expensive than initially expected. Leave it to the professionals at Kingwood Sprinkler.
Choosing the right outdoor lighting will make your property safer and more inviting. Outdoor lighting done the right way adds value to your home. New outdoor lighting will definitely give your home or business a refreshing look. We are the best lighting company when it comes to attention to detail. Kingwood Sprinkler can brighten any entryway, driveway, garage, porch, deck, windows, or pools. Anything you can dream up, we can turn it into reality.
Professional outdoor lighting installation gives your home character, enhances beauty, and increases safety. You no longer have to be in the dark. We will illuminate every event you have at your home. We will accentuate beautiful landscapes and pathways allowing you to safely navigate and truly enjoy the outdoors at night.
We don't share your info with anyone
 Kingwood Landscape Lighting
Outdoor Lighting – It's what we do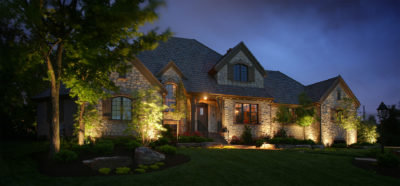 Architectural lighting and landscape lighting, we have installed it all! When you call Kingwood Sprinkler you are getting a certified pro. We know exactly how to design and install your Custom Outdoor Lighting. Our professional landscape technicians can add landscape lighting, garden lighting, pathway lighting, underwater lighting, and any other outdoor lighting you can dream up to add style and safety to your home.
We can install wall lights that add a warm and welcoming illumination to your porch or driveway. Deck lighting is great and sets the perfect mood for entertaining guests outdoors. We can accentuate the right features on any deck, patio, or porch. Pool lighting allows you to swim at night and enhances beauty to the backyard. Adding style and security is what you get when you purchase landscape lighting.
Outdoor Lighting Design and Installation
Our professional designers start with you and your vision. They will design custom outdoor lighting to illuminate your vision. Our lighting designers will create a design that will suit your needs. Consult with our design professional today at (281) 612-7870.
What Kingwood Sprinkler Does:
We will transform your outdoor living spaces in ways that make sense.  Check out some of our outdoor lighting options:
Accent lighting highlights your property's best features.

Patio and deck lights make entertaining at night much more exciting.

Pool lighting enhances your beautiful backyard while you enjoy nightly swims.

Architectural lighting will show off your home's unique beauty.

Garden lighting helps illuminate your landscaping at night.
If your home is not well lit at night or lit at all, call Kingwood Sprinkler today at (281) 612-7870. If you're not sure how you want it done, don't worry. We have done this for over a decade and can steer you in the right direction if you aren't sure how you want it done.
Outdoor Lighting is like dressing up for a big party. It's highlights and accents particular features that the business or homeowner wants to draw attention too. Kingwood sprinkler realizes every property is unique, so we pay close attention to the features and what you want. This way we can customize to every last detail for an award-winning look. This is why we are the leading provider of high-quality outdoor lighting. Put your trust in a locally owned and family business that cares about getting your landscape lighting just right.
Kingwood Sprinkler services Kingwood, Humble, Atascocita, The Woodlands, Spring, Cypress, Magnolia, Houston, and many other cities nearby. Call us today to learn more at (281) 612-7870.